With Crypto prices having a tough time maintaining price momentum with all the volatility in December, investors are wondering what's up next for favourites like Solana? It seems to have held it's value fairly well and there are some potential drivers out there that might give an indication of where it will go next.
After all, the midterm trend on Solana remains very bullish. The recent headwinds pulled back SOL to roughly $150. But our technical analysis sees a bullish reversal coming, and this could push Solana close to $200. Here is what has happened so far:
Recent market volatility has cut trading volume by nearly 40%, giving bulls the perfect dip to buy
$150 still remains Solana's (SOL) support level, and the coin has traded well above that in the recent past
Solana was up 18% within a few days of tumbling below $150, indicating a bullish reversal.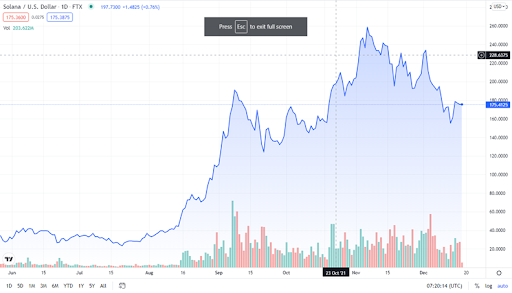 Data Source: Tradingview.com
Solana (SOL) – Price Predictions and Analysis
Although Solana has been hovering between $150 and $170 in the past few days, we have not yet seen a real breakout from a bullish point of view. This is actually consistent with broader market sentiment in the crypto sector, where volatility has ruled.
Some analysts, however, see resistance levels of between $200 and $250. So, even if a breakout would settle at that level, SOL could still be well over $180 and, better still, above $200. Besides, the Relative Strength Index is around 43 right now, something that could suggest a bullish momentum is quite possible in the near term.
Should You Buy Solana (SOL)
Solana has always been a good long-term bet for any crypto investor. If you are buying BTC, ETH, and these other major coins, then it makes sense to also have SOL in your portfolio. For short-term investors, a bullish play over the coming weeks is feasible. But there is always the risk of significant volatility as well.